Comment
4 days only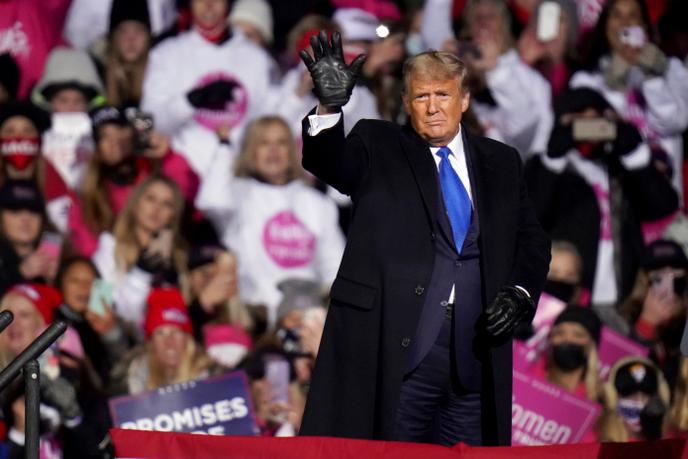 The French newspaperLe Mondepublished a report in which it talked about Trump's chances of winning the US election.
Donald Trump held three meetings monday in Pennsylvania and three more on Tuesday in Michigan, Wisconsin and Nebraska before starting a new tour of the states he hopes to win, such as Nevada and Arizona, the paper
said. In short, Donald Trump's election marathon continues unabated.
As part of the campaign, Trump has so far made 45 trips since the nomination slate ended, compared to only 27 for his Democratic rival Joe
Biden. Four years ago, Donald Trump brought across the United States with the same energy and enthusiasm until the day before the vote.
The paper noted that it is unclear whether Trump's massive efforts will eventually bear fruit. It is still lagging behind in the voting intention polls, which have covered a large part of the key states.
In fact, the recent presidential debate has had little impact on the presidential race. For his part, Joe Biden leads the polls, and he traveled to Georgia on Tuesday and is scheduled to visit Iowa on Friday. The newspaper
reported that the percentage of people who are reluctant to participate in the elections is very low, and so far has not exceeded 3 percent, according to an October 27 poll published by Emerson College.
More than 70 million Americans have already voted by mail or by going to open polling stations.
This figure represents more than half of the votes recorded in 2016, which is likely to hold record turnout in this round of presidential elections.
For months, Donald Trump has called polls that did not serve him
biased. Perhaps it depends on a repeat of the 2016 election scenario, the results of which pollsters did not expect very similar results in Michigan, Wisconsin and Pennsylvania.
The paper said the time frame is still available to Trump, however narrow it may be, to secure a second
term. Trump's campaign is characterized by "overzealousness," in the words of Henry Olsen, a conservative columnist for The Washington Post, whose grassroots base focuses on the loyalty of white voters who don't have a college education.
Olsen said there are "many in this social group who did not vote in 2016 or even registered to vote."
From a practical point of view, Donald Trump is expected to win the states he won in 2016 with the largest number of voters, where he is currently close to Joe
Biden. Trump in Maine and Nebraska
has 29 votes in the electoral college, compared to 16 for Georgia, 18 for Ohio and 20 for Pennsylvania.
The last state's win will not be enough to win, but Trump will also have to keep votes in the arizona and Iowa caucuses at least by betting on two more votes from Maine and Nebraska
Very interactive topic