I hope you  like it (looks awesome)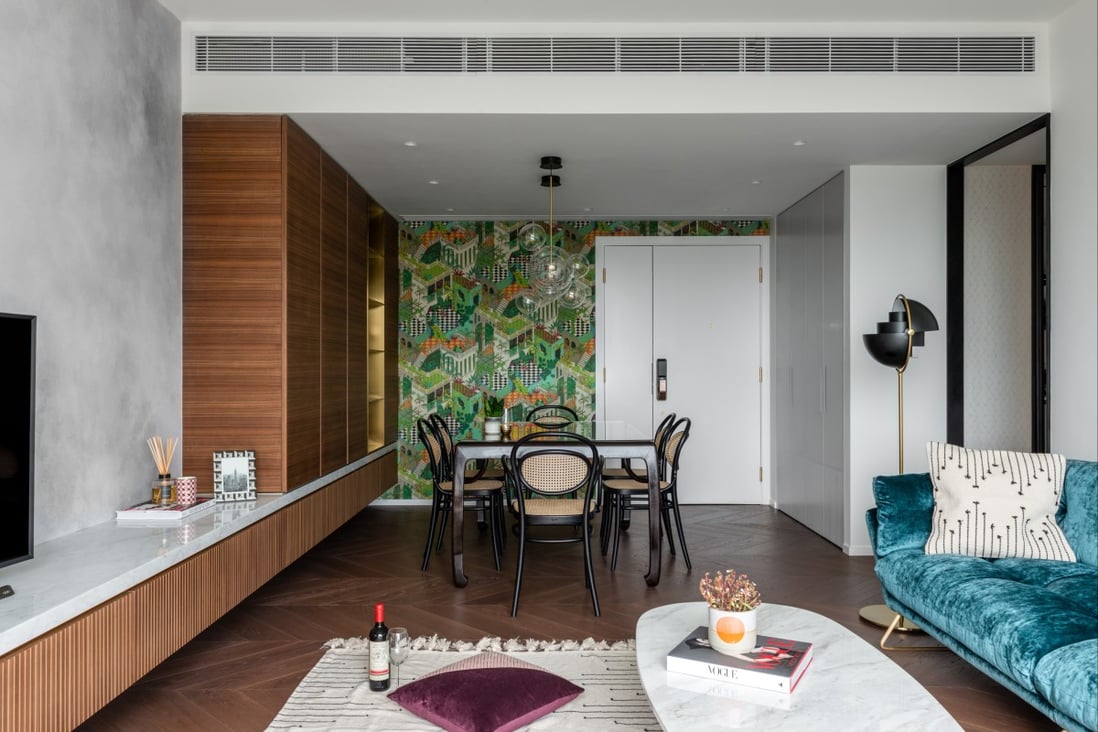 In the living room of this 1,600 sq ft flat in Sai King, custom-made American walnut cabinets run alongside a teak dining table that the owner inherited from his late father. Photography:  
As their young family grew, the owners of this 1,600 sq ft, three-bedroom flat became increasingly bored of staring at their plain white walls. "The client wanted to have something interesting to look at in every area," says Yu-chang Chen, founder of interior design studio hoo, who was tasked with transforming the washed-out apartment into a colour­ful and imaginative space.
The Chinese owners, who run their own engineering firm, were happy to get rid of everything and start afresh so Chen's approach was to begin with the bones of the apartment, set in a low-rise building overlooking the mountains and village houses of Sai Kung.
"The apartment has big windows, almost floor to ceiling, so it's very bright," he says. "With so much light, I knew patterns and rich colours weren't going to be a problem."
In a slight departure from the sleek mid-century modern style that Chen is known for, he mooted a range of bold wallpapers. "We try to give each project a very individualised and unique look and feel. Here, I wanted to take mid-century modern and make it more playful to suit their personalities," he says.
A family home filled with natural materials and timeless 'forever' pieces
When the owners agreed to an eye-popping print from Cole & Son for the open-plan living and dining room, Chen knew it would be plain sailing from there on. It was soon agreed that there would be a different colour palette and feature wall in each room.
The exuberant Miami design is the first feature wall that visitors encounter and it makes for an instant talking point. It graces the wall next to the front door, which opens onto the living and dining room, and features jumbles of tropical plants, colonnaded villas, pergolas, pillars, tiled terraces and repeating staircases, reminiscent of a modern version of M.C. Escher's optical illusion lithographs. To bring some mid-century brawn – and much needed storage – to the space, Chen had the living room cabinetry custom made in American walnut with gold-lacquer display shelves and a television console. Behind the TV, there's a second, less obvious feature wall, hand-painted by Moroccan artist Assia Bennani to appear like soft polished concrete. A vivid turquoise sofa responds to both the grey wall and the blue-greens of the wallpaper.
The next step in the four-month refurbishment was to rip up insipid old flooring and replace it with a rich oak, laid in a chevron pattern, adding warmth and texture. It flows from the living room into a corridor leading to a guest bathroom, the children's rooms (a girl and a boy, aged seven and three, respectively, at the time of the redesign, in 2019) and the main bedroom.
In the boy's room, a lush palm-print House of Hackney wallpaper mingles with oak floors, a custom-made American walnut desk, built-in white wardrobes and a rattan chair. His big sister's room is almost a mirror image but features a whimsical flamingo-print wallpaper chosen by the bird-loving girl herself. A shared bathroom flashes greys, blues and denim-effect tiles while the parents' bedroom is a veritable vision of pinks and purples.
"If you're going to choose a feature wallpaper the wallpaper has to be bold, otherwise what's the point?" says Chen of the flowers-in-bloom wall mural in the main bedroom. The only non-repeating wallpaper pattern in the apartment, the mural feels more like an art piece, adding depth without overwhelming the space.
How a Hong Kong home creates a sense of the unexpected
The only change to the overall floor plan was pushing back a wall at the rear of the main bedroom, which allowed Chen to create a more capacious walk-in wardrobe while freeing up space to add a versatile island – storage space, vanity table, workstation, eye-catching feature. But the scene-stealer is the fabulous magenta-pink en suite bathroom. "They really love the bathroom, they love the colour," says Chen.
It's an apartment that gives each area its own distinct atmosphere while tying it all together with a mid-century modern thread.
"The materials – the velvets, the brass, the rattan cane; the colour choices – the greens, burgundy, the walnut; and the shapes, they are quite mid-century," says Chen. "But this is the first time we've used so many different wallpapers in one apartment – there's even a wallpaper in the corridor."
Living and dining area
The Miami wallpaper, by Cole & Son (cole-and-son.com), adds a shot of colour complemented by the New York Suite sofa by Saba Italia (sabaitalia.it). The concrete-look feature wall was hand-painted by Moroccan artist Assia Bennani (assiabennani.com). American walnut cabinets, custom made by interior design studio hoo (hoo.com.hk), run alongside a teak dining table that the owner of the flat inherited from his late father. The chairs, in dark chocolate and cane, came from Ton (ton.eu). The hanging lamp was from Giopato & Coombes' Bolle collection (giopatocoombes.com) and the standing lamp from Gubi (gubi.com). The oak flooring was from Wooderland (
), the rug and cushions were from H&M (www2.hm.com) and the coffee table has been with the owners for years.
Main bedroom
The plum-hued wall mural is by New Zealand textile designer Emma Hayes (emmahayes.co.nz). It is teamed with a custom-built, hoo-designed island and bedside tables, in walnut and cane topped with Carrara marble. The brass pendant lamp came from Bert Frank (bertfrank.co.uk). The PH5 Mini suspension lamp, from Louis Poulsen, (louispoulsen.com) and the rich pink velvet H&M bedspread add a mid-century modern flourish.
Kitchen
Sleek white cupboards designed by Binova Milano (binovamilano.com) are jazzed up with geometric-print porcelain stoneware tiles from Atlas Concorde (atlasconcorde.com) and a black-frame glass door custom made by hoo.
Guest bathroom
"We tried not to repeat any colours," says hoo founder Yu-chang Chen of the blue-hued guest bathroom. The denim-effect tiles were from the Digitalart collection by Ceramica Sant'Agostino (ceramicasantagostino.it). Hoo custom made the cabinetry and mirror.
Main bathroom
The pinks and purples of the main bedroom flow into a dramatic, magenta-coloured en suite bathroom, designed and made-to-measure by hoo. The glossy cabinets are tempered with light-grey floor and wall tiles from Living Ceramics (livingceramics.com). The chair was from Ton.
Daughter's room
In the girl's room, a bespoke desk, in American walnut, was installed beside a wall featuring the Flamboyance flamingo print from House of Hackney (houseofhackney.com), accentuated by Dusty Pink paint from Dulux (dulux.com.hk). The velvet chair was bought by the owners years ago. The natural-cotton bedspread came from H&M.
Son's room
The navy and palm-print wallpaper is from a discontinued line at House of Hackney. It is complemented by an American walnut desk (custom made by hoo), a rattan chair from Ton and a classic black Anglepoise lamp (anglepoise.com).
Tried & Tested
Yu-chang Chen of hoo designed and produced an island for the bedroom. A versatile piece, it multitasks as a workstation, a vanity table and a focal point while providing additional storage. The natural hues of the walnut and cane, the brass edging, curves and hairpin legs create a mid-century modern effect against the bedroom's contemporary wall mural.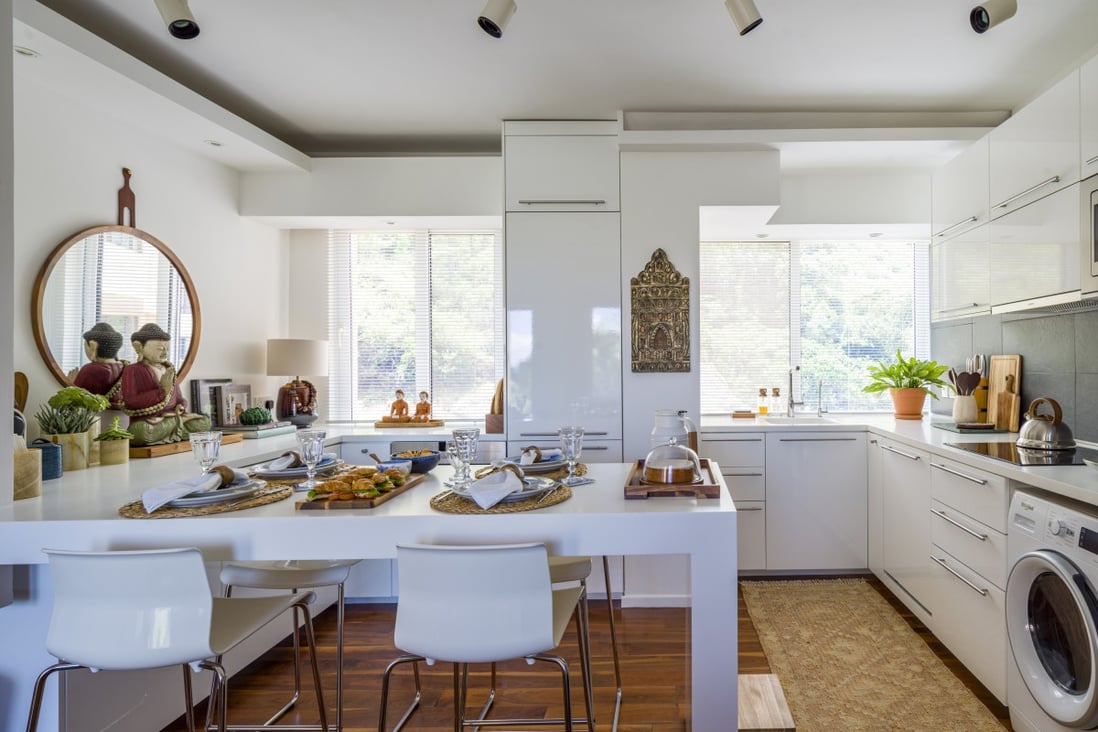 Interiors stylist Flavia Markovits' 780 sq ft family home is filled with light and natural materials. Styling: Flavia Markovits. Photography: John Butlin. Photo assistant: Timothy Tsang
As an interiors stylist, Flavia Markovits knows a good layout when she sees one. And with her family's 780 sq ft (72 square metre) flat in Discovery Bay, she struck gold.
The previous owner, architect Georges Hung, had gutted the three-bedroom, two-bathroom unit on the first floor of a tower block to open up the space. He merged the third bedroom and a corridor into the kitchen and living room to create a large open-plan space. And instead of keeping two bathrooms, he turned one into a study and had two bedrooms share the former en suite between them.
While Markovits recognised its potential immediately, the rest of the family – husband Alex, who is a pilot, and 12-year-old daughter, Manuela – used to living in a larger property, took some convincing.
"Flavia said, 'Trust me,'" Alex says. So he did. Fortunately, he adds, "I really liked the flat once it was empty and we could see the space."
"I loved the aesthetic of the flat; I loved all the wood," she says. "We have a mountain view on one side and we can see the sea on the other. Georges worked wisely on the changes of the floor plan to maximise the space, airflow and natural light. And because it's on the first floor, and there's no one below us, it feels more like a house than a flat."
There are considered details through­out. Rather than conventional internal doors, Hung chose floor-to-ceiling sliding doors, with no handles, to keep the look clean and uncluttered. "They're so solid, they look like walls," Flavia says.
In the study and main bedroom, the wood panels continue up the wall, visually expanding the space and forming lighting troughs for subtle LED uplights, while in Manuela's room, the step up to the platform doubles as a bookshelf.
An interior designer helped a couple create a more flowing home
While the flat had good bones, Markovits has added her own resourceful touches. In the main bedroom, the platform meant there was not enough space for conventional wardrobe doors to swing open. So Markovits hit Google and came up with flush sliding mechanisms, allowing doors to slide open in tight spaces, then designed a wardrobe and had it custom made by AOT (Art of Tools).
"It took almost a day to install because the space was so tight, and I have to stand on the platform to access it, but it works perfectly," she says.
Much of the charm of the flat comes from her styling. While she kept a few pieces from their previous home, most items were bought to fit the space. Markovits is a big believer in the mantra "a place for everything and everything in its place" – "It saves time, space and stress," she says.
This she combines with a love of natural materials and repurposing. The effect is calm, organised and clutter-free. There is even a basket under Manuela's desk specifically for her school bag.
"Simplicity is a luxury," she says. "It's powerful. You can be simple yet extremely sophisticated. I tend to bring nature aesthetics to my design and styling. It's what catches my eye."
A flat went from derelict and dingy to light-filled and desirable
This translates into a jute macramé wall hanging handmade in Bangladesh, cactus-silk cushions and a leather pouffe from Morocco, a cowhide rug, and lots of plants and wooden furniture.
Although originally from Brazil, the family has a fond­ness for Bali in Indonesia that is apparent in the objects on display – notably the seated Buddha that presides over the kitchen.
"Alex loves the surfing, Manuela loves the beach … I love the shopping," Markovits says. Her favourite Bali object, however, is a heart-shaped piece of coral Manuela found and gave to her.
As well as the natural materials, the living space has accents of cobalt and indigo in the sofa, artworks, coffee-table books and ceramics.
"The blue Portuguese tiles in the bathroom were so beautiful that I decided to bring more blue into the home. I love blue," Markovits says. Then she pauses, and adds, "But I also have white covers for the sofa, just in case."
Kitchen "The kitchen counter became my sideboard," Flavia Markovits (
) says of the display on the kitchen worktop, featuring a favourite Buddha, bought in Bali, Indonesia; a Mira mirror, from Organic Modernism (organicmodernism.com); and onyx candleholders from Tree (tree.com.hk) repurposed as plant pots for succulents.
The cabinetry and bar stools came from Ikea (ikea.com.hk). The wooden stool, ceramic table lamp and jute rug were all from Zara Home (zarahome.com).
Living area The Nest sofa from the Noble Souls collection and antique batik cushions were from Timothy Oulton (timothyoulton.com). Two PS cabinets from Ikea were placed side by side for use as a television cabinet and to store the printer, which Markovits accommodated by removing the back panel of one of the units.
The teak and rattan armchair was from Zara Home, as was the cowhide rug. The Solo teak coffee table came from Tree. The floor candle stands were bought in Beijing years ago. Remote controls are housed in the bone-inlay box from Indigo Living (indigo-living.com).
Daughter's room "When we first saw it, Manuela's room had bunk beds and a large wardrobe and it felt very small," Markovits says. "I said, 'Leave it with me.' And now she loves it." The bed, which came with the flat, is dressed with a cotton cover from Indigo Living. The walnut desk was custom made by Woodmark (woodmark.com.hk) and the chair came from Organic Modernism.
Below the peace sign, bought in Amsterdam years ago, are pillows with cactus-silk covers from BerberologyCactiSilk on Etsy (etsy.com). The Umbra Edge Multi Wall Frame was from Homeless (homeless.hk).
Balcony Markovits gave the balcony a holiday feel with a Moroccan leather pouffe bought through Amazon.com. Other items include a solid wooden stool, bought in Zhongshan years ago from a shop that has since closed.
The acacia wooden tray came from H&M Home (hm.com); the plant pots were from Tree and the tea mug with lid was from Loveramics (loveramics.com).
Study The wall unit from Homeless allows pieces to be bought separately and assembled in different ways. Because the unit depth is only 30cm (12 inches), it doesn't get in the way of access to the underfloor storage space. The walnut and paper cord chair was from Organic Modernism and the seagrass baskets were from Tree. The surfboard wall art came from Bali years ago. The skateboard was from Island Wake (
).
Main bedroom The jumbo tassel wall hanging, made of jute, was bought from The Dharma Door (thedharmadoor.com.au). The mother-of-pearl bedside tables, from India, were bought through Etsy. The table lamps and ladder were from Zara Home. The Moroccan cactus silk lumbar pillow covers on the ladder were from another Etsy shop, MoroccanModernSpirit. The throw in Belgium linen came from Harbour (harbouroutdoor.com.au).
To make the most of the space, Markovits had her wardrobe – built by AOT (Art of Tools; aothk.com) – fitted with flush sliding doors.
Bathroom The bathroom is enlivened with Portuguese tiles installed by the previous owner. The vanity unit, from Ikea, also came with the flat. Accessories added include the row of houses, from a shop in Schiphol Airport, in Amsterdam, and a soap dispenser from Zara Home. 
Tried and tested Keen to hide her drill, the family's backpacks and other unsightly "stuff", Flavia Markovits used masking tape to affix Balinese ikat cloth to the backs of glass panes on the doors of her antique Indian cabinet, from Crack & Anecdote (crackandanecdote.weeblysite.com). "I added texture, colour and I get to change it if I feel like it," she says.
The laundry basket was from Tree and the African wall baskets were from MackenzieBryantCo on Etsy. On top of the cabinet, the stone Buddha, from Guangzhou, was picked up years ago, as were the Tequila Kola (tequilakola.com) candlesticks. The hand-painted Javanese wedding couple came from Bali